Wednesday, April 3, 2019 -

6:00pm

to

8:00pm
International House, Lightbox Film Center (3701 Chestnut St)
Free Admission (seating on a first-come basis) + Free Reception starting at 5:00pm in the Lobby 
PLEASE REGISTER HERE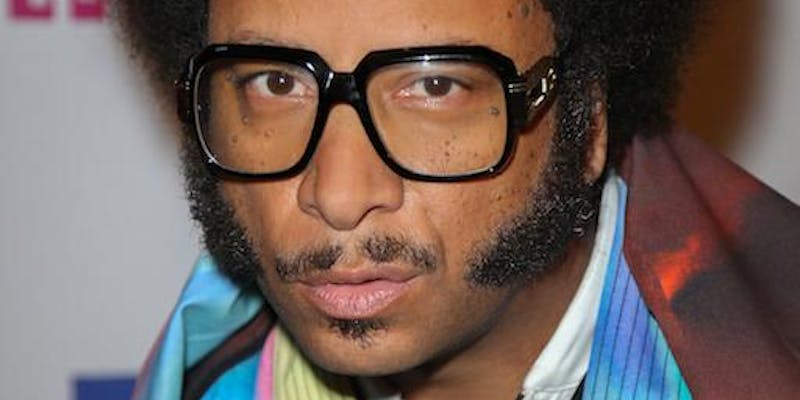 The provocative and prolific poet, rapper, songwriter, producer, screenwriter, director, community organizer, and public speaker BOOTS RILEY will talk about his film, Sorry to Bother You (2018), a comedy fantasy sci-fi film that raises issues of race, labor, and social movements. Fervently dedicated to social change, Riley was deeply involved with the Occupy Oakland movement. He was one of the leaders of the activist group The Young Comrades. He is the lead vocalist of The Coup and Street Sweeper Social Club, and he is the author of the critically acclaimed Tell Homeland Security—We Are the Bomb.
In advance of the April 3 event, join us for a free screening on March 22 at 4:00pm at the Institute of Contemporary Art, University of Pennsylvania, 118 S. 36 Street.
Organized by: Penn Social Justice/ Global South. Co-sponsors: Penn Cinema & Media Studies, Sachs Program for Arts Innovation, Annenberg School for Communication, Andrea Mitchell Center for the Study of Democracy, Wolf Humanities Center, Center for Programs in Contemporary Writing, Annenberg Media Activism Research Collective, History of Art Department, Dept. of English, Provost Campaign for Community, Drexel Women's and Gender Studies, Temple Film Media Arts. Sponsor: Evil Twin Booking Agency.