---
History of the Keller (Zercher)--Hauck
and Weis--Roser Families
of Germany and St. Louis

Harold F. Schiffman
Haddonfield, New Jersey 08033 FN3
Introduction
This is an attempt to pull together a basic history of the Keller/Zercher and Weis families based on materials originally gathered by Catherine Keller and passed on to my mother (Mathilda Keller Schiffman), and utilizing also other family lore, memories, documents, and information from recent FN6 visits to Germany. From recently obtained records, there is now no doubt that that the Keller family name was originally Zercher and that it was changed after the family left Germany. The original impetus for writing this was to get it ready for the reunion of Keller cousins of my generation held in Colorado in June of 1986; I now have more recent information about Friedrich Zercher (Keller), Barbara Hauck Zercher/Keller, and Katarina Roser Weis. I expect to make many revisions as time goes on and as more information, reminiscences, insights, and guesswork help to bring the picture into sharper focus. I therefore welcome additions, corrections and suggestions for improvements of any sort, as it is only a beginning, not a definitive history. (It is written on a word-processor so I can incorporate any changes or suggestions easily). Now that this is on a Webpage, I am able to add images (photographs, maps, charts) that I and others have acquired, which will make this account even richer.
Background of Keller/Zercher Family in Germany.
For some time there was some mystery about the Keller name and whether it was Keller before Frederick and Barbara Hauck Keller left Germany. Catherine may have discovered this when she discontinued her compilation of the history of the Keller and Weis families, and Mathilda and Merl Schiffman came across some evidence when they visited Germany in 1971 and asked Cousin Heinrich Denzer (from the Weis side of the family, see below) to phone the town clerk in Hassloch and see if they could locate records. When they arrived the next day in Hassloch the clerk excitedly told them that there was no Keller family that fit the description they had given (names, birthdates), but there was another family named Zercher with the same first names and birthdates. This was somewhat disturbing, and since Mathilda felt that Grandpa Philip Keller had not wanted anyone to go to Hassloch to look up family (he conveyed a sense of debt or obligation owed to someone there) Mathilda felt that the name may have been changed to hide something, or anyway was connected with Grandpa's perception that there was a black mark against the family name. Leon Scherrer indicated to me much later that Tante Emma had also told him of once finding some letters in a dresser when she was a child with the Zercher name on them, but couldn't figure out what it meant.
In 1986 Irma Keller Scherrer and Alice Keller Hall visited Hassloch with Alice's daughter Barbara Hall Schwartze and met and talked to some Zerchers, in particular a Karl--Heinz Zercher, and there was some family memory of an `Uncle Fritz who had gone to America.' Since this visit they have written to confirm that this Uncle Fritz was the brother of their great-grandfather, Adam Zercher, and sent a xerox of Adam's baptismal certificate . A xerox of Grandpa Philipp (Keller) Zercher's baptismal certificate, dated 26 September, 1886, was also available (and is my possession ); a definite link with these Zerchers in Hassloch has now been established. Apparently our ancestor Friedrich was the oldest, followed by Adam, Georg, Johannes, and Adolf. Adam's great-grandson, Karl--Heinz Zercher, lives at Forstgasse 56, 6733 Hassloch, Germany and has a sister, Helena, who is married and has two sons. The Abstammungsurkunde for Friedrich Zercher was obtained by Karl-Heinz and forwarded to us; it can be seen by clicking here . It shows that he was born on June 6, 1856, the son of Wendel Zercher and Elisabetha Zercher, nee Keck.
The name Zercher means, according to the history of Hassloch published in 1977 (cf. References) `someone from Zürich' (Switzerland); this would be a dialectal pronunciation of the standard German Züricher. After the Thirty Years War many protestant refugees from Switzerland were invited to come to and settle in the Pfalz region, which had been devastated by foreign troops and was in need of new settlers to repopulate and rebuild the area. The Zürich region in Switzerland, although it was a Protestant area as well, seems to have had a surplus population (perhaps they were Protestant refugees from other Catholic cantons of Switzerland) so several different families came from there to settle in Hassloch. Those that came from that area at that time were referred to as "Zerchers" and today Zercher is a fairly common name in Hassloch, and not all of them believe themselves to be related, though some are.
My own analysis of why the Zerchers in St. Louis changed the name to Keller, rather than the sense of shame or debt that someone felt about the circumstances of leaving, was that the name Zercher as pronounced in American English is rather awful, at least to German ears, and at best it sounds quite different from the German pronunciation, so perhaps Keller was chosen as being less subject to distortion by American mouths.
In any event, the search in Hassloch for Kellers has led to Zerchers instead. The facts about Friedrich Zercher/Keller and Barbara Hauck Zercher/Keller seem to be as follows, based on their birth certificates and/or baptismal certificates, copies of which are now in my possession.
Friedrich Zercher
Frederick (in German Friedrich) Zercher was born on June 6, 1856 in Hassloch/Pfalz, Germany.
He was baptized on the 8th of June, 1856 in the presence of witnesses Friedrich Herk and Sophia Zercher. His mother was Elizabeth Keck and his father Johan Wendel Zercher. He had a younger brother, Adam, and another brother George. Adam was born on September 7th, 1857 and is the ancestor of the present Zerchers (Karl-Heinz and family) with whom we are now in contact. Adam had a son Georg and a daughter Barbara; Georg was the father of Karl and Emilia; Karl is the father of Karl-Heinz and his sister Helena. Karl-Heinz is married to Ute and they have two sons, Christian and Florian. K-H has another son, Thomas, by his first wife (now deceased) who lives with them and is an apprentice in Neustadt.
Friedrich Zercher's birth certificate is now in my possession (Alice Hall also has a copy of his baptismal certificate).
Hassloch is located a few miles west of such historic German cities as Speyer and Mannheim, which are Rhine River ports; just west of it important hills, the Haardt Mountains, begin which continue west for quite a distance but the area around Hassloch is flat, part of the Rhine valley ("die Rhein-Ebene") which is very broad at this point. The map (see appendix) shows straight roads and straight railroad lines in the area. Just west of Hassloch is the market town of Neustadt an der Weinstrasse (`Newtown on the Wine Road'); this Weinstrasse area is a string of towns (``Wine Road'') known for their vineyards and wine and is much visited by tourists. One of these (Haardt) has its own webpage which gives some idea of what the Rhine plain looks like from the heights above it.
According to the Hassloch Chronicle, the name Hassloch is referred to in the oldest records as Hassalaha; the -aha part apparently meant some body of water, probably a stream. The Hassa- part probably had something to do with the German word for `Hasel (nut)' and there may have once been a stand of Haselnut bushes near a stream. So the conjecture about Hassloch meaning perhaps `rabbit-hole' is not substantiated by the official history. The town is first mentioned in records in the year 773, and has had its ups and downs through various wars and the reformation. After the religious wars the policy of Cujus regio, ejus religio was implemented, meaning that the ruler of the territory decided what religion would be practiced; there was no tolerance for the beliefs of members of the other religion, so Hassloch--Böhl--Iggelheim were part of an area that became Protestant. Catholics' property was expropriated and the churches turned over to the Protestants; the opposite happened in Catholic areas. So Hassloch etc. became a haven also for Protestants who were turned out of Catholic areas, and it in fact received refugees from Switzerland, including our Zerchers fleeing Catholic areas there.
Frederick (Zercher) Keller died on March 7, 1941 in the family home at 808 Hawbrooke Drive, Glendale, MO. From Catherine's (henceforth CK) materials we have Tante Emma remembering that he had two sisters who died in infancy and a brother who died as a young man; this seems to be contradicted by the evidence from Karl--Heinz Zercher (see above).
Barbara Hauck Zercher/Keller
Barbara Hauck (Keller/Zercher) was born on December 8, 1855 in Böhl, also Rheinland-Pfalz, a town just to the northeast of Hassloch. Her parents were Anna--Barbara Bummel Hauck (who was born August 20, 1830), and Johannes Hauck VII
who was born July 10, 1818. Anna--Barbara Bummel and Johannes Hauck VII were married the 14th of April, 1853 (and I have a copy of their marriage certificate). Anna--Barbara Bummel's parents were Johann Bummel III (born in about 1793) and Anna--Marie Scheffelmayer (born 1798). They were married on 15 April, 1816. Johann Bummel died on August 28, 1875. His parents were Lorenz Mathias Bummel and Anna--Margaretha Hauck (notice the name Hauck on both sides of the family here!). Anna--Marie Scheffelmayer's parents were Nikolai Scheffelmayer, born in 1767, and Maria--Magdalena Lützel, born in 1769.
Johannes Hauck VII's parents were Philip Jakob Hauck (born in 1784) and Anna--Kristina Gross (b. 1783). They were married on January 9, 1806. Philip Jakob Hauck's father was Heinrich Hauck and his mother was Anna--Barbara Werth. I do not have birth dates or years of birth for them.
According to Tante Emma's memory, Johan Hauck VII was Bürgermeister of Böhl, and lived to be 90. She said this (at the age of 85) in the context of not wanting to live to be 90 herself. But in the published history of Böhl listing the mayors of the town from early times onward, there is no indication that Johan Hauck VII ever in fact held this office. There are other mayors who might have been relatives---there is a Bummel, a Gross, and later a Hauck (after the departure of Barbara and Friedrich Zercher/Keller for America).
In Barbara Hauck's family there were nine children, Barbara being the eldest. Friedrich Zercher and Barbara Hauck were married in Böhl on Nov. 24, 1883, and I have a copy of their marriage certificate. There is a letter in CK materials from the children of one of these siblings sent to Tante Emma and Elsie after the Second World War, describing the problems they were having; apparently they hoped for some special favors (money?) from their American relatives and this led to a breaking off of correspondence.
Anna--Marie Hauck Heuvelman
One sister, Anna--Marie (addressed by nephews and nieces as Aunt Mary), who was born April 10, 1872 (presumably also in Böhl) also emigrated to America and married John A. Heuvelman (his second marriage, CK) on February 2, 1901 in St. Louis. They lived in Chicago; she is the mother of Cornelia Heuvelman Tellschow Baffetti and John Arnold Heuvelman (b. Dec. 16, 1902 in Chicago). She died June 7, 1951 in Chicago (CK). Cornelia has a son Robert and a daughter Lois, who is married to Bill Coil (they have a son, Mark and a daughter (?); Arnold and Florence (Glabe) have a son, Jack, and a daughter, Diane. Anna--Marie and John Heuvelman also had a son William, who died Feb. 6, 1926, and Louis who married Florence (?) and seems to have died early. A copy of the application for a marriage license of John A. Heuvelman and Anna M. Hauck is in the appendix.
Barbara Hauck Keller/Zercher died June 3, 1941 in the family home (808 Hawbrook, Glendale MO) and is buried, along with Frederick, in the New St. Marcus Cemetery in St. Louis, MO.
As far as Hauck relatives left in Germany, I had hoped in my visit there in early June, 1987 to find someone, but even with the help of Karl--Heinz Zercher's mother Erna, who made innumerable telephone calls to Haucks in the local phone book, first to some she knew and then to others, we did not find anyone with a memory of Barbara Hauck Zercher. The oldest person we found was a woman in her 80's who had married a Hauck, and had a memory of an aunt who had run away to America to marry someone of another religion, but this was obviously not our relative. Naturally, since Barbara left in 1894, and never visited again, anyone with a memory would have had to be very old. Karl--Heinz regretted that we had not found them before his father died, because his father would have had better memories.
Emma and Elsie received a letter after the war from the son of a sister of Barbara Hauck. I did not have access to this material (CK has it) so was not able to trace them. People die and/or move away! The sister was of course married and had a different name; the son's family name was (see CK materials); he also mentioned sisters and some other relatives. The last address for him was (see CK materials).
---
Children of Barbara Hauck Keller and Frederick Keller.
The children of Barbara Hauck K/Z and Frederick K/Z are Elizabeth (b. Dec. 5, 1884), Philip (b. Sept. 23, 1886), Adolph (b. Oct. 2, 1888), Emma (b. June 16, 1892), all born in Germany, and Elsie, b. Feb. 18, 1897, in St. Louis---``the only American'', she used to brag.
Friedrich Zercher came to the United States ahead of the rest of the family and found work in St. Louis. Exact dates of arrival were originally difficult to determine, since Catherine, for example, was looking for the arrival of Kellers, rather than Zerchers. According to records obtained recently (by MKS) the rest of the family arrived (via Ellis Island) on June 15, 1894, when Emma would have been two, Philipp 8, Adolph 6, and Elizabeth almost 10. Mathilda Keller Schiffman discovered records for the arrivals of Zerchers on the S. S. Columbia in New York on that date in transit to St. Louis. This ship had as ports of embarkation Hamburg and Southampton, and Barbara and the children are numbers 117 through 121. Barbara Zercher's age is given as 39, ``female, wife, native country Germany, intended destination St. Louis, protracted sojourn, location of space--Steerage C; 3 bags.'' Mathilda remembers Oma Keller telling her that when she saw the customs inspectors going through people's belongings, her heart sank because she had packed everything so tightly that she knew she would never get everything back in. When the inspector opened her bags, he said ``Poor people!'' and didn't make her take anything out. Later a German woman Oma met on the train invited her to her home (in Buffalo, where they had to change trains) to let them all take baths and change clothes. (Steerage on the S. S. Columbia apparently meant no bathing facilities.)
Mathilda also indicates that family records (included above?) showed that Barbara had a brother George, born May 21, 1866.
In the appendix is a copy of a letter from the St. Louis Board of Education, dated June 4, 1968, with verification of the birth dates of the various Keller children (Philip, Adolph, Emma, and Elsie) as of the date of their entry into the Clinton (and in the case of Elsie, the Fremont) school. They were between the ages of 12 and 14 when this happened, and the home addresses are listed as 1307 S. 13th Street for the first three, and 3007 McNair Avenue, for Elsie (in 1910). Elizabeth's records are not given.
Also in the appendix is a flyer (or some kind of advertisement) for the Champagne Pipe, a company begun after Opa Keller retired so that he would have a bit of income, making these pipes. Note the different telephone numbers for the two different telephone systems in operation in those days.
Elizabeth Keller Wilking
Elizabeth Keller (Zercher) born Dec. 5, 1884 in Hassloch married Friedrich Wilhelm (later Frederick William) Wilking on August 28, 1907 at St. Marcus Evangelical Church. She was also known as Lizzie or Lizette, and was a seamstress, and taught Emma her dressmaking skills. She died on August 28th, 1908, after giving birth to Arnold Philip Wilking on August 20th. Arnold was raised by Oma Keller and Tante Emma and Elsie until his father remarried and wished to raise him himself. Arnold went to live in California but returned to live with his grandparents and aunts in order to finish college. His father died in 1971 at the age of 86 in California. Arnold married Martha Brumby of Louisiana on November 3, 1937. They have three children: Arnold Philip, b. 7/4/40, Myrtle Angéle (b. February 20, 1943), and Richard Bruce (b. 8/22/1950).
Philipp Zercher/Keller
Philipp Keller (Zercher), born Sept. 23, 1886 in Hassloch and baptized September 26, 1986 in the presence of his godparents, Philipp Hauck, single and protestant (his uncle?) and his godmother Maria Hauck (also single and protestant), who are said to reside in Böhl according to the baptismal certificate. He is stated to be the son of the local married couple Friedrich Zercher, mechanic, and Barbara Hauck.
Philipp arrived with Barbara Hauck K/Z and the other children on June 15, 1894 and was confirmed March 26, 1899 in the St. Markus Evangelical Church of St. Louis. He entered Clinton Elementary School in St. Louis on 9/4/1900. In the CK materials there is a copy of a clipping from the St. Louis Post Dispatch of June 15, 1968, describing the Clinton School's closing for the year and stating that it was the centennial of the school that year. [It is not clear to me why he was entering elementary school at this point, rather than leaving it, but that is what the record (part of the CK materials)] indicates. Arnold Wilking recounted to me the following story told to him by Oma Barbara Keller.
"Shortly after the family settled in their first St. Louis home, at Third and Rutgers, I believe, Grandma took him to visit the German-speaking principal of the [probably St. Marcus Evangelical Church] school. The principal asked Philip questions (in German) to determine the state of his education and where he would best fit into the St. Louis school, i.e., what grade. Philip refused to answer any questions and remained absolutely mute. On the way home, Grandma asked him why he wouldn't answer the man's questions and Philip exploded. "Such questions! How many legs on a cow? How many heads on a horse? Does he think I'm stupid? (Denkt er, ich dumm bin?)". I think it probable that Philip matriculated in the public school soon after. So far as I [Arnold] know, the only church school in that neighborhood was a short-lived enterprise under the auspices of the St. Marcus Evangelical Church which was taught by my (Arnold's) father, perhaps in 1905-07 or thereabouts."
He married Mina Catherine Weis at Ebenezer Evangelical Church, St. Louis, on September 10, 1910, with Gustav A. Weis as best man and Emma Keller as bridesmaid. Click here to see their wedding certificate, and their wedding invitation.
It is interesting to note that Philip was not naturalized until 1941 (see copy of certificate no. 5266911 dated 6/6/41 in appendix, or click here . Because he was not an American citizen when he and Mina were married, she lost her citizenship (the law in those days!) and had to reapply for citizenship, a copy of which is in the CK materials.
I recently found a letter Grandpa wrote in September, 1940, to all his daughters, indicating, among other news, that he was finally getting himself naturalized. I think he felt that with the war coming on, it might be a good idea, as a German-born person, to get things straightened out. (Note that because his parents changed their names from Zercher to Keller, unofficially, of course, he had no documentation--no birth certificate, nothing, to prove who he was, other than graduation diplomas from school, etc.) Letter is located here.
Adolph Zercher/Keller
Adolph Keller was born Oct. 2, 1888, in Hassloch, Germany and of course came to America with his mother and siblings. He was a man with mathematical skills and an inventive mind. His first marriage was to Marie Hammann who died in 1916. He then married Grace A. Riehl on June 24, 1922 at 4556 Labadie Avenue, St. Louis and a son, Robert Edwin, was born on Sept. 9, 1924. Robert (``Bob(by)'') served in the U.S. Navy from 1943 to 1946; according to a letter to Mathilda from Elsie Keller dated May 17, 1943, Bob was in Farragut, Idaho at Camp Scott at that time and liked the navy ``just fine''. After the war he received a BS degree from St. Louis University in 1953. He married Elaine (?) in (dates) and died in November, 1986 after a long bout with cancer.
In 1922 Grace Riehl along with 30 eleven and twelve year old girls, joined the Camp Fire Girls at Cote Brilliante Presbyterian Church. The group continued to meet once a year even 40 years later (at the time of Catherine Keller's writing.) When Grace was somewhat older, ``a girlfriend asked her to accompany her to Ligget & Myers Tobacco Co. where the friend was going to apply for a job. Mr. Grogham, department head, hired Grace. In no time Grace was in charge of her department--- breaking in new staff, adding large books, all in pounds and fractions. They sat on high stools at real large desks. This was Grace's first and only job. Grace met Adolph at L&M.'' (CK) Adolph died (dates) in St. Louis and is buried in St. Paul's Cemetery.
Emma Zercher/Keller
Emma Keller (Zercher) was born June 16, 1892) in Hassloch, Germany, and came to America with her mother and siblings on June 15, 1894. She entered Clinton Elementary School in St. Louis on Sept. 4, 1900. She told me that she at times attended the German (Evangelical) School since she had a teacher in the public school she didn't like.
---
Mathilda, Irma and Edna
---
Arnold Wilking confirmed that this was the St. Marcus School, operated by the St. Marcus Evangelical Church, then on 3rd and Soulard Streets. (This was the school run by Frederick Wilking (Arnold's father) mentioned above, who met Elisabeth Keller/Zercher as she accompanied Emma to school, and later married her.) She was an excellent seamstress and supported herself making dresses. She made beautiful clothes for the Keller nieces, as can be seen in the adjacent photo.
Elsie Keller
Elsie Keller was born Feb. 1, 1897 at 822 Hickory Street, St. Louis. Since she was born in America and the name Zercher was no longer being used, she is presumably listed as Keller on her birth certificate. According to CK, she entered Fremont Elementary School on September 5, 1910; Mathilda Keller's notes on CK's materials questions this date, as do I. She would have been 13; presumably she attended other schools, perhaps German schools. MKS notes that she attended McKinley High School on Roosevelt Blvd., and attended business college for 2 years. MKS told me that Philip insisted that she get a good education so she could get a better job, and she did work all her life, much of it as a secretary for Jacobi Art Glass, a firm that made stained glass windows. She was able to get art glass for Philip when he built houses at cost, which made it possible for him to incorporate beautiful glass in many of his houses. She is mentioned in (Stained Glass Magazine article about Jacobi). When I showed her the article in 1979, she replied that she was once offered the chance to buy the business when there was a change of management at one point, but declined---she didn't want the headaches. In actuality she was running the place, as the article points out. Elsie loved doing handwork, crafts, and needlework of all sorts, and many were the Christmas presents carefully made by her and Emma of this sort.
I have childhood memories of Elsie and Emma in their home at 808 Hawbrooke---the earliest is of a Fastnacht celebration in 1941, which we have on home movies. Oma Keller is looking out the door and I am in a Fastnacht costume. (This is the European custom of celebrating before the beginning of Lent; known in French, and in New Orleans, as mardi gras. People dress up, especially in Catholic countries, in costumes and party for days before hand. The Protestants celebrated much more tamely.) Another memory I have of this garden, which MKS reminds me was geometrically laid out, like the formal gardens of Versailles, is of an Easter Egg hunt, perhaps in 1942, with Gordon, I, Charles, Claudia and Betsy running around looking for eggs. Their house was always spotless, and was the only home I know where children were required to wash their hands after eating as well as before, so that we wouldn't get spots on the furniture. They always had new cars, which Elsie drove; they, like St. Louisans of a certain generation, always referred to a car as a `machine'. When they were ready to buy a new car they would sell the older one to Phil, which he would drive until it fell apart.
Children of Philip and Mina Keller.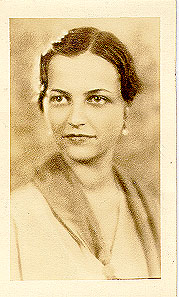 Mathilda Emma Keller
Mathilda Emma Keller Schiffman
Mathilda Emma, born Aug. 10, 1911, in family home at 2926 Salena St., St. Louis. She was baptized on the 10th of September, 1911 in the Ebenezer Church; a copy of her Baptismal Certificate (in German!) can be viewed; a detail of it can be viewed here. This indicates that "Mathilda Emma Keller" daughter of (the married man) Philip Keller and his wife, Mina (nee Weis) was born on August 10th, 1911, in St. Louis, and baptized on September 10th of the same year. Witnesses were Gustav Weis and Emma Keller.
She graduated from Grover Cleveland HS (St.L.) and Washington University. She married Merl Schiffman of Dunkirk, NY on Jan. 8, 1934 in family home at 526 Sheffield Ave., Webster Groves, MO. Merl was a student at Eden Seminary in WG and met Mathilda through the WG Evangelical Church. Children of Mathilda and Merl: Gordon Merl, b. June 20, 1935 (Buffalo, NY; Harold F., born Feb. 19, 1938 (Buffalo, NY); Glenn Joy, b. Feb. 15, 1943 (Scranton, PA); Joel Keller b. Sept 12, 1951 (Gowanda, NY).
Click here for a picture of the house at 526 Sheffield Avenue, Webster Groves, MO. The drawing dates from a time when the house was put on the market during the 1930's. See also the reproductions of small stained glass windows that were in the dining room swinging doors of the Sheffield house; I photographed them during a chance visit in 1979, and have reproduced them here. Another interesting image is the "Scheren-Schnitte" (images cut with a sheep-shearing scissors), that may have been brought from Germany. Second one is here. These hung over my bed when I was little; I didn't think much about them then but now realize how beautifully finely cut they are.
Irma Minnie Keller Scherrer
Irma Minnie, b. April 1, 1913, in St.L. She graduated from Grover Cleveland HS and Washington University, St.L. Married Leon Bennington Scherrer of St.L. on Sept. 16, 1938 at Keller home at 526 Sheffield Ave., WG. Children: Claudia Alice, b. Oct. 27, 1939 in St.L.; Elizabeth (Betsy) Lee, b. Sept. 20, 1940, in St.L.; Richard Bennington, b. April 26, 1947, in St.L.
Edna Marie Keller Kreichelt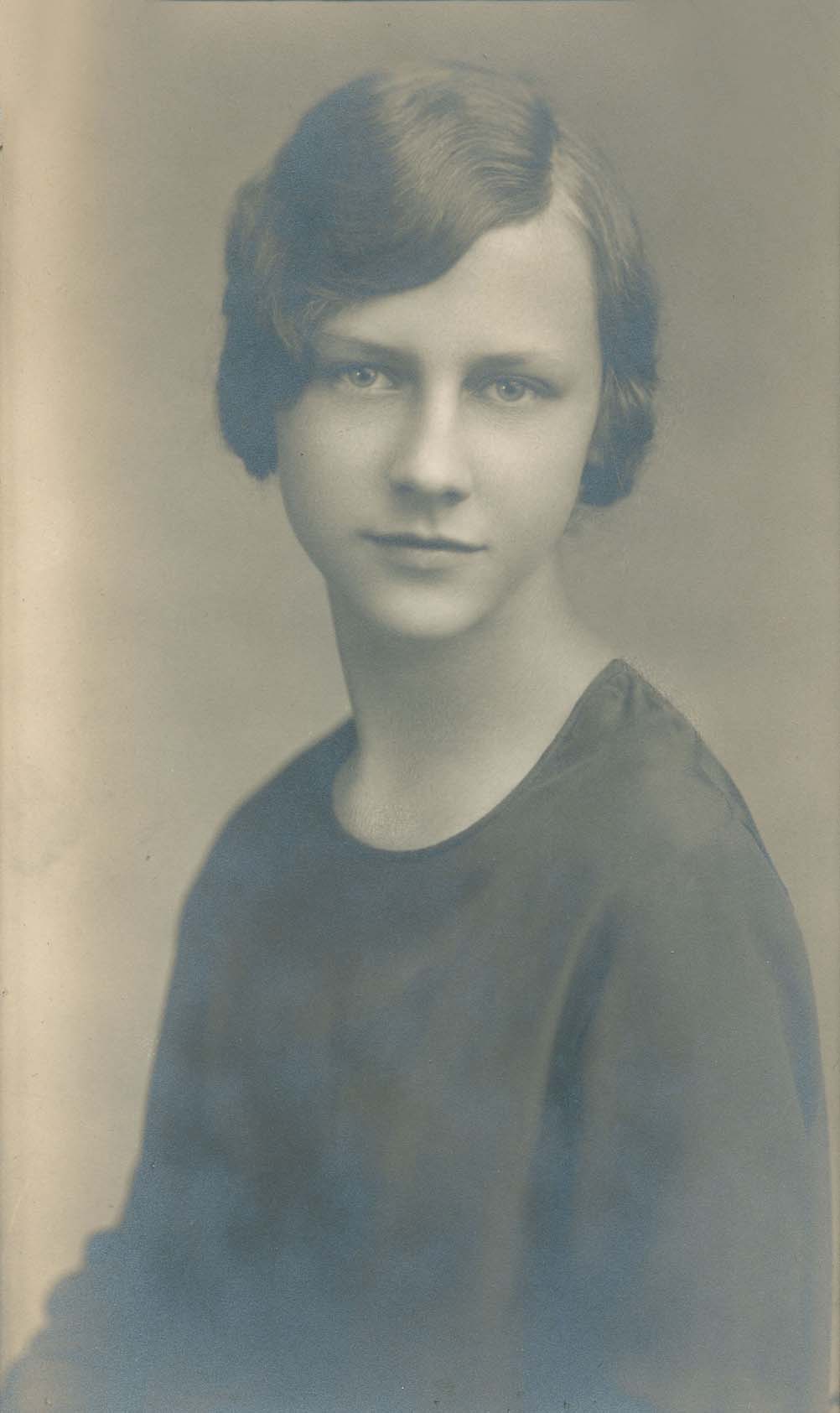 Edna, at 16 years of age
Edna Marie, b. Nov. 9, 1914 in St.L. She graduated from Webster Groves (?) HS and attended Washington University. Married Charles K. Kreichelt of Shrewsbury, MO on June 12, 1937 in Keller home at 526 Sheffield Ave., WG. Children: Charles Philip, b. Aug. 3, 1939, in St.L.; Thomas Edward, b. Dec. 7, 1941 in St.L.; Raymond John, b. July ??, 194?, in St.L.; Kenneth Robert, b. March 27, 1952 in St.L.
Alice Elsie Keller Hall
Alice Elsie, b. Feb. 1, 1917 in St.L. She graduated from Webster Groves (?) HS and Washington University. Married James Edward Hall of Advance, Indiana on Sat. April 18, 1942 in Keller home at 145 Central Ave., WG, MO. Children: Nancy Alice, b. June 22, 1943, in Omaha, NB; Barbara Edna, b. March 23, 1946 in St. Louis; James Oakel, b. May 1, 1947, in St.L.; David Winfield, b. Dec. 4, 1950, in St.L. (The Kellers lived at 145 Central Ave., WG from Aug., 1941 until Aug. 1942, CK).
Lillian Estelle Keller Bloesch
Lillian Estelle, b. Sept. 20, 1919 in St.L. She graduated from Webster Groves(?) HS and attended Washington University. Married Paul Calvin Bloesch of Dyer, IN on Tuesday, Jan. 30, 1940 in Webster Groves Evangelical and Reformed Church, WG, MO. Children: Cynthia Marie, b. Oct. 10, 1942; Julia Kate, b. Dec. 10, 1945; Mary Paulette, b. May 21, 1951; Calvin Paul, b. April 28, 1953.
Catherine Barbara Keller
Catherine Barbara, b. Nov. 9, 1927 in Richmond Hts., Mo. Baptized Dec. 18, 1927 in family home at 3650 Bowen St., St.L., witnesses Catherine Roser Weis and Barbara Hauck Keller, by Pastor H. Carl Haas. She was confirmed March 29, 1942 at WG E&R Church by Pastor Thomas R. Marshall. She graduated from WG High School January 24, 1946, and attended the U. of Missouri, majoring in home economics.
There is much more fleshing out needed here, especially from the memories of the Keller girls, Verna Kraus etc. but such material can be easily gathered since it is within the living memory of various living relatives; it seemed more important to get the irretrievable stuff down first; perhaps the various sisters can supply fuller details, record their early memories on tape (Mathilda and Irma are already doing this), give more details of missing dates, and we can add this in later. Arnold Wilking needs to give more details of his family, too.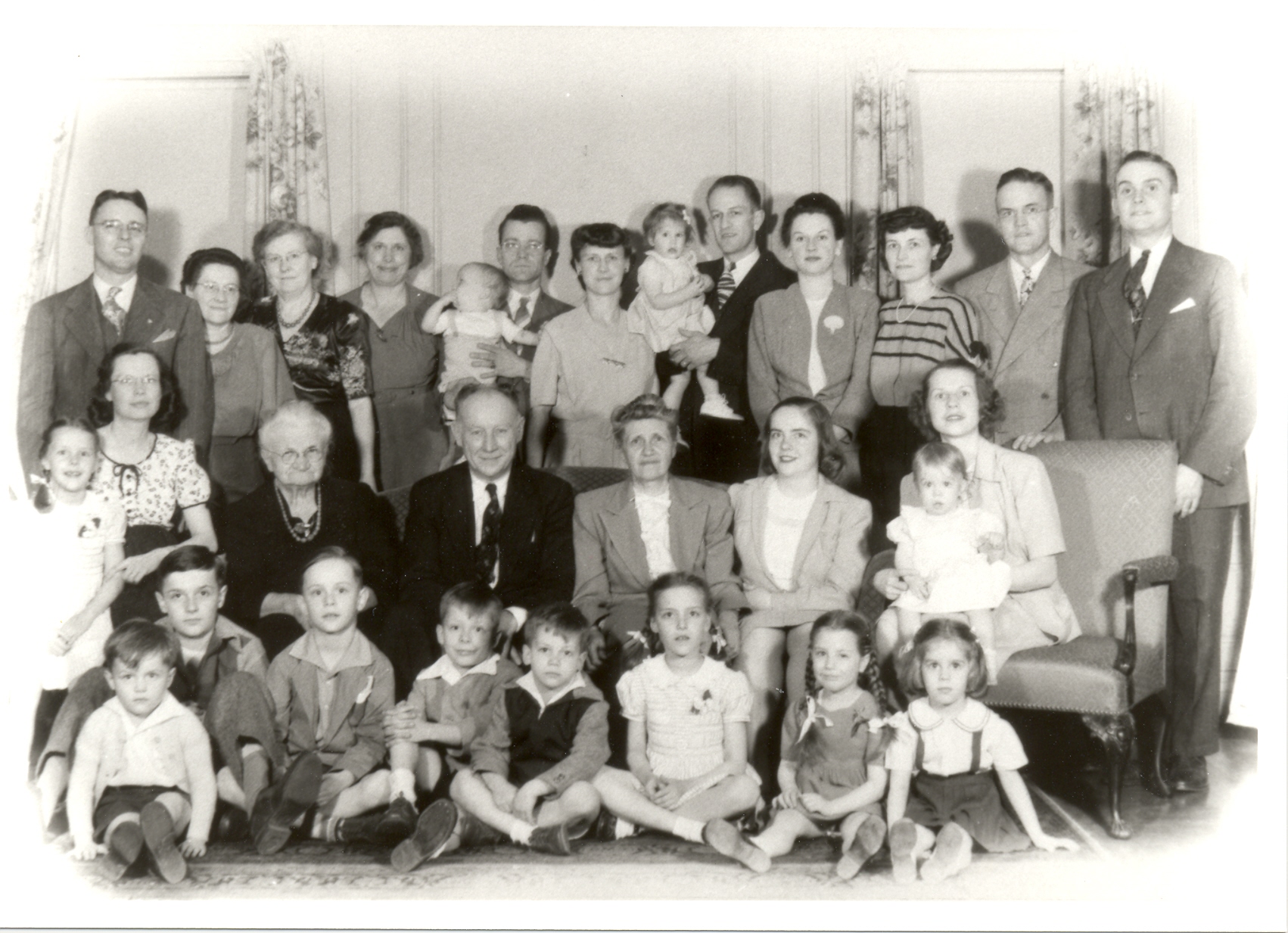 Photo of 1947 Reunion of Keller Family
---
Joseph Weis and Catherine Roser Weis
Joseph (Josef) Weis was born in Trier, Kurpfalz, Germany on Sept. 14, 1858, the son of Elisabeth Bach Weis and Joseph Weis. The family was Roman Catholic and the Weis men were from a long family line of sculptors and stonemasons.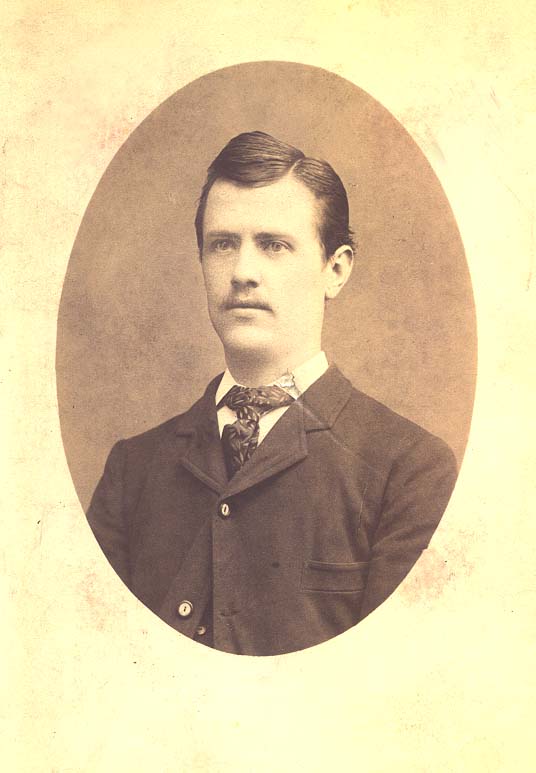 Josef Weis as a young man
Cousin Heinrich Denzer (grandson of Opa Weis' sister Margarete Weis Denzer) has researched the history (going back into the early 1700's) of Weis ancestors, many of whom were stonemasons or sculptors (see appendix). St.-Matthias is a parish within the city and most of the family were born in this part of the town, as will be obvious below. St.-Matthias is clearly shown on the maps and engravings in the appendix. Click here for a view of Trier in an engraving dated 1842. Click here for an older map of Trier from the middle ages.

For example, Josef Weis' father Josef was born in Trier--St.-Matthias in 1831, the son of Johann Weis and Anna Maria Weber; Johann Weis was born in Trier--St.M. in 1789, the son of Sebastian Weis and Elisabeth Marschang; Sebastian Weis was born in 1765, the son of Heinrich Weis and Margarethe Felzen, whose birth dates are not known. Josef's mother, Elisabeth Bach, was the daughter of Johann Bach and Katharine Speller, and was born in 1837 in Trier--St.M. Johann Bach was the son of Heinrich Johann Bach and Elisabeth Anna Rohlinger, and was born in 1807 in Trier--St.M. Heinrich J. Bach was the son of Hubert Bach and Anna Regina Weisdorf and was born in 1770; Hubert's birth year is given as 1708, while his wife's is not known. Hubert's father was Johann Adam Bach, died in 1743; his mother, Sophie Schneider was born in 1679, but her date of death is not known; her parents, (?) Schneider and (?) Apollonia were weavers, but their dates of birth are not known. The Rohlingers go back through marriages to Anna M. Becker to a marriage with (?) Herig or Härig, born in 1763 in Trier--St.M., and the Härigs, whose name is also spelled Herig or Herich, go back to our earliest ancestor on this side of the family, Willibrord Herich, born March 18, 1631, who was a fisherman in Trier--St.Medard. (See appendix, Denzer Genealogy, for more details.)

Opa Weis' father's apprentice contract to John Oberbillig (dated 1847) in this profession is a document in Mathilda Keller Schiffman's possession ( English translation of Lehrlingskontrakt) . His sister Margarete (born February 29, 1860, died September 24, 1939 in Trier) remained in Germany when he came to America. He made his way to St. Louis, where he established a marble works (Weis and Jenett) which is still in operation in St. Louis. He married Catherine Roser in 1884 in St. Louis and died March 19, 1933 in the family home at 3167 S. Jefferson Ave., St. Louis, and is buried in New St. Marcus Cemetery.

From the CK materials: ``Joined Concordia Gymnastic Society, Thirteenth and Arsenal Streets, St. L, in January 1904 and became an honorary member in 1930. Hazel Weis recalls the following ... told to her by Gustav Weis, her husband. Joseph Weis was born in Trier of a Catholic family. He was a [ecclesiastical] sculptor and had a studio in Trier. Joseph left Germany without permission, to avoid army induction, and had to abandon his studio and other belongings. When Gustav traveled to Germany with his parents after WWI, his father showed him the studio which had been in the back yard of their home. Joseph's sister Margarete and her husband were curator of a Provincial museum. When Joseph Weis came to the United States, he couldn't find work as a sculptor, so he went to work for a monument company and later started his own business [ Weis & Jennett, Marble & Granite Works, picture ] on Missouri Avenue. He built his own house with the help, on Sundays, of his German immigrant friends. He would feed them and give them an octal of beer which he carried home from work on Saturday. The first monument they made was put on a board carrier, which they took on the Manchester Streetcar, and then walked a mile to a cemetery with it.'' Another picture of the Weis and Jennett workers can be seen here.

Joseph Weis was a Director (and at his death, a Vice- President, see death notice from St. Louis Globe--Democrat, March 20, 1933, in appendix) of the Chippewa, (later American) Home Building and Loan Association, with general offices at 2925 S. Broadway, St. Louis (see xerox of card, appendix). Copies of the application for a marriage license, and of the marriage license itself, of Joseph Weis and Katie Roser, dated Sept. 17, 1884 are in the appendix.

Josef's sister Margarethe remained in Germany, married a Denzer, and her grandson Heinrich Denzer is the cousin (now deceased, dates??) in Koblenz who prepared the genealogy. He was married to Hildegard Dohler, and they had three children: Mechthild, Hildegard, and Wolfram. Mathilda Keller Schiffman found them in Trier on her first visit in 1959, and stayed with them during a trip in 1971. Wolfram visited the Harold Schiffmans in Seattle in the summer of 1981 for five weeks. He brought with him as a present a gold coin that was part of a cache the Denzers buried in the ground during times of trouble; some of the gold coins were given to Margarethe Denzer by Opa Josef. Heinrich is pictured in a photograph in the album with Oma Weis and Grandma Mina Keller during their visit to Germany in 1932; he is the small boy between them, sitting on the Domstein outside the cathedral door.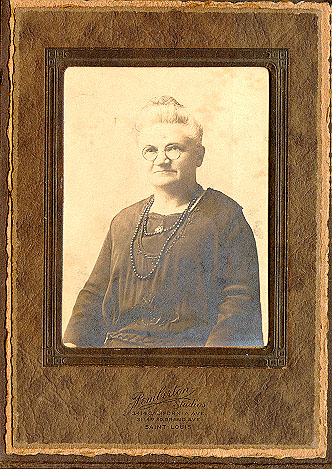 Katherine Roser
Katherine Roser was the daughter of Magdalena Reinacher Roser and Christian Roser and was born Oct. 29, 1864 in Tutschfelden bei Kenzingen (Baden), Germany. This quiet little village is in the Rhine River valley, tucked up against the foothills of the Black Forest, accessible by railroad from either Offenburg to the north or Freiburg/Breisgau to the south; closest railroad station is in Herbolzheim. Here's a map of the area around Tutschfelden (which is now administratively part of the larger town of Herbolzheim):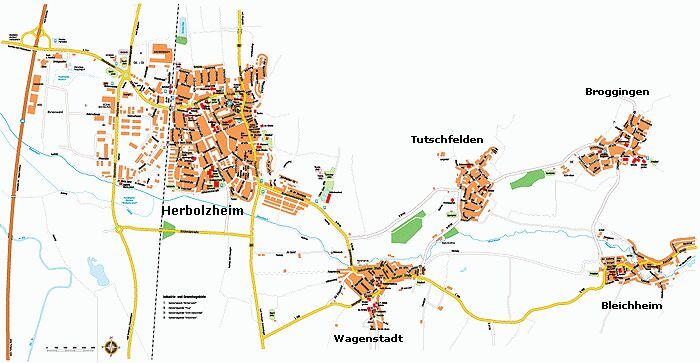 When I was in Strasbourg (France) in June of 1987, I planned to visit Tutschfelden since it was not too far from Strasbourg. I telephoned the Evangelisches Pfarramt (Protestant Church Office) in Tutschfelden to see what hours would be good for a visit. The Pastor's wife, Frau Nübling, was very cordial and said there were still Rosers in Tutschfelden and that they would be interested to know of a relative looking for documents about Rosers. She said she would pick me up at the station when I came since Tutschfelden is 5 km. from Herbolzheim (nearest railroad station) and there is no public transportation. When I did finally call again ten days later, she said she would ask Mr. Roser to meet me, and when I got off the train and all the other people had dispersed, I went up to the one person left and asked if he was Herr Roser. ``I am the nephew of Katherine Roser," he said, and I replied that I was the great-grandson of Katherine Roser. Adolph Roser took me to her Geburtshaus (birthplace), still in the family, an old Bauernhof type of house with livestock on the first floor (quite evident to the olfactory nerves!) and living quarters above. Karl Roser, son of her brother Christian's son Karl, lives there with his wife. The picture is dated 1906 on the back.
Then I went to Adolph's home and his wife Hilda fed me lunch while he opened up a bottle of his own home-made wine; he is retired now (he was born in 1917) but for a living he raised grapes which he sold to a wine-maker (Vintser), but he still grows enough grapes for his own wine. We went then to the Pfarramt and I also took pictures of the church Oma was baptized and confirmed in. It was a beautiful sunny day. In the Pfarramt I was able to see (and xerox) her baptismal certificate, the baptismal certificate of her father, also Christian, born on October 17, 1838, and a page from the Familienbuch, which was a record of the family of Christian Roser and his first wife Maria-Magdalena Reinacher (born 19 February, 1844, died the 2nd of November 1876). They were married on 21 January 1863. Katherine was the oldest, born 29 October, 1864, then Christian Friedrich, born 14 February 1866 (and married April 12, 1894), then a sister, Maria Magdalena, born 2 February, 1870 (who died on January 5, 1888), and then her sister Luisa, born 27 March 1874.
Christian's parents are listed as Matthias Roser, who was born
January 24, 1799 in Ottoschwanden and died August 18, 1864; and Elisabetha Bühler, born in Ottoschwanden May 25, 1802 and died December 17, 1879 in Tutschfelden. Adolph has traced the Roser ancestors back to 1608 and their names and dates can be seen on the document he prepared called ``Unsere Roser-Ahnen ".
Katherine's mother, Maria-Magdalena Reinacher, was born in Königschaffhausen, a place not far from T. on the so-called Kaiserstuhl, a low set of hills that rises out of the Rhine plain between the Black Forest foothills and the river; the wines of the Kaiserstuhl are famous since the climate is milder than the surrounding area. Maria-Magdalena Reinacher's parents are listed in the Familienbuch as Georg Friedrich Reinacher and Rosina Maier Reinacher. Christian Roser, Katherine's father, was the first Roser born in Tutschfelden; the others are from neighboring places like Ottoschwanden, Brettental, and Keppenbach.
Here is a picture of what is probably Katarina's father, mother (wearing the traditional Tracht [folk dress] for this region, which consists of a large black bow pinned in the hair) Katrina, a brother (also Christian), and two sisters--Maria Magdalena and Luisa.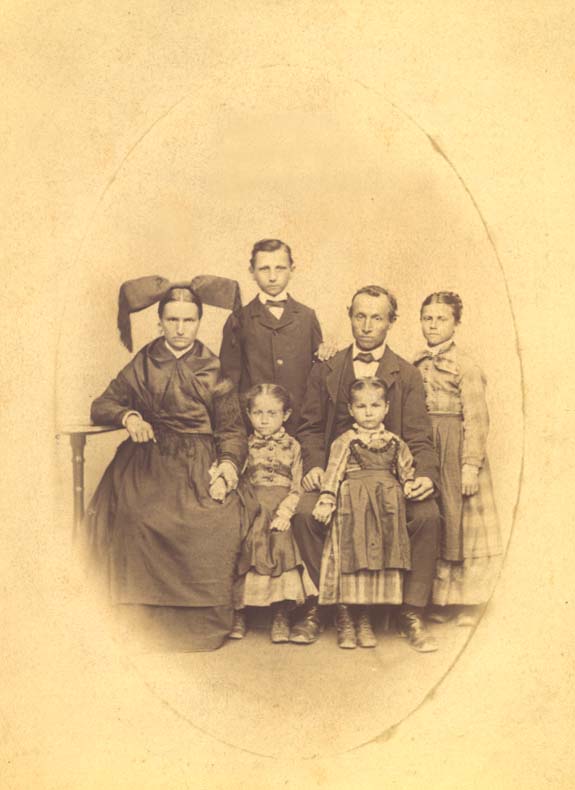 Roser Family of Tutschfelden
Katherine's father married again (Christina Sillmann) on 24 June, 1877, and there were three children from this marriage: Christina, Johann Georg, and Wilhelmina. Christian Roser and Christina Sillmann Roser died within two days of each other (the 13th and 15th of December, 1918), most probably in the influenza epidemic of the time. Their daughter Wilhelmina had died earlier that year.
In the CK materials are some translations of pages from an album, with photographs, dated September 13, 1903, apparently sent to Mina Weis Keller by her mother's relatives in Tutschfelden. One is signed Mrs. Christina Roser, née Hiss; the other is signed Christian Roser, and mentions that he is ``her mother's brother''. Catherine Weis and daughter Mina traveled to Germany in 1934 for a family visit; their visit is remembered by the Rosers still living in Tutschfelden, i.e. Luise and Adolph, daughter and son of her brother Christian. A photograph was taken of all the family gathered for a banquet in a local restaurant. Her letters, the last dated 20th of February, 1953, are kept like precious relics. Since they were written in old- fashioned hand-written German script, Luisa's son Bernhard (Mössner) even transcribed them and typed them out; I was given copies of these last letters. In a February, 1948 letter she mentions what a cold winter it was, that there was a coal shortage, that prices had risen tremendously since the war, that she could not go out because of the weather and that her son [Gus] had to get everything for her, and that her oldest great-grandchild would be confirmed that year. She was generous to them and helped them out after the war with packages and little gifts of money. They sent her clippings from local newspapers that brought back old memories for her, she wrote. In 1953 she told them about her 23 great- grandchildren, the inauguration of President Eisenhower, and how she kept up with the world by watching television and reading two newspapers every day.
In the CK materials is a translation of handwritten records entered into the Holy Bible of Katerina (sic) Roser; in this is stated that the Bible was given to her by her pastor in Tutschfelden on her departure to America, Sept. 10, 1882. It lists the times and dates of births of her children. She arrived in the U.S. about October 1, 1882 (CK) and lived with "Aunt Imhof" in Evansville, Indiana for a time (MKS).
Katherine Roser was known as Katie Roser after her arrival in St. Louis (cf. marriage certificate). She ``waited on tables in the same boarding house where Joseph ate his meals'' (CK). They married on September 18, 1884 in St. Louis (Justice of the Peace Jacob von Gerischt officiating, CK; since she was Protestant and he was Catholic, and neither had relatives in America were perhaps the reasons they chose not to have a church wedding); she was very social and belonged to three German Vereine, especially the Badische Verein in St. Louis. She died October 8, 1957 in her home at 3167 S. Jefferson Ave., St. Louis, and was buried in the New St. Marcus Cemetery in St. Louis. Catherine and Joseph had the following children, all born in St. Louis.
Joseph William Weis
Joseph William (?) Weis, b. June 20, 1985. Married Matilda E. Rund (`Tante Tilly', who was born on July 6, 1888) on June 3, 1908. They had a baby (stillborn, and buried March 29, 1909) and a daughter, Verna Emma Augusta (b. June 12, 1910). Verna married Theodore J. Kraus June 8, 1932 and had three daughters, Carol Lee (b. April 9, 1934), Susan Anne (b. March 3, 1937, and Jane Ellen (b. April 23, 1941), all in St. L. Ted died on January 11, 1968 at the age of 59 (see obituary).
Carol Lee married David Polk Gast on August 9, 1954; their children are David Polk, Jr. (b. Feb. 13, 1955), Theodore Carl (b. April 29, 1957; married Katherine MacGuire Finn May 8, 1982), and James Alan (b. April 13, 1959; married Donna Ann Brunette Oct. 12, 1985).
Susan Anne married John Paul Dewald (on July 12, 1958) and their children are John Paul, Jr. (b. July 6, 1960; married Elizabeth Ann Brackin June 26, 1982) and Anne Elizabeth (b. April 4, 1963).
Jane Ellen married Carl Robert Hibbetts (June 15, 1962); their children are Michael Robert (b. February 28, 1964), Scott Alan (b. March 26, 1966), and Kristen Lynn (b. September 9, 1969).
Friedrich H. Weis
Friedrich H., born Nov. 28, 1886, who died March 18, 1894 ``after a short severe illness'' (see translation of death notice, from CK materials). This was black diphtheria, which Mina also had, but recovered from.
Mina Katherine Weis Keller
April 22, 1889. Her godparents were Wilhelmine Düwel and Julie Imhof. She attended Fremont Elementary School and Garfield School; she was confirmed March 23, 1902 in Ebenezer Evangelical Church. In the CK materials is a copy of a German ``Certificate of Honor'' attesting her attendance at Ebenezer Evangelical Sunday School from 1895 until Easter, 1904. She married Philip Keller on September 10, 1910 at Ebenezer Church, and died Sunday, June 4, 1967 at St. Mary's Hospital, Richmond Heights, MO. She was buried in the New St. Marcus Cemetery.
Gustav Adolph Weis
Gustav Adolph Weis, born Friday, Oct. 3, 1890 in the family home at 3012 Indiana Ave., St. Louis. He was baptized October 10, 1890. He married Hazel Hull in Havana, IL (St. Paul Lutheran Church) on Jan. 8, 1958. He died May 29, 1961 in St. Louis and was buried in the New St. Marcus Cemetery. In a translation of a clipping from a German newspaper, (CK) it notes that ``Gus A. Weis, of Weis & Jennett Marble and Tile Co., was elected a member of the board of directors of the American Home Building and Loan Association, the seat that was vacated by the death of his father, Joseph Weis Sr. ... He is known on the south side of town as a reliable and well-informed businessman, who himself is a real estate owner and knows real estate. His great experience will be valuable to the association.''
Karl Johann Weis
Karl Johann (Carl John) Weis, (b. Thursday, Sept. 14, 1892); baptized on March 7, 1893, with Emma Imhof as witness. He married Estelle M. Fausek October 11, 1919 at Evangelical Ebenezer Church, with Julia McLoad and Frank C. Weis as witnesses. He died on April 22, 1967 in St. Louis and is buried in Jefferson Barracks National Cemetery, St. Louis Co., Mo. They had a son, Carl Julius Weis (Junior), born Aug. 18, 1921 at family home 2913 Missouri Ave., St. Louis. He married Arlene Edinger on Nov. 20, 1948 at Ebenezer Church. Karl Johann served in the US Infantry as an interpreter in World War I; in CK's materials is a copy of a ``postal card sent by solder mail to Mr. Philip Keller, 2907a Missouri, St. Louis, Missouri, USA. Message: Private C. J. Weis, Head Quarter Co., 354 Infantry, Trier, Germany, (his father's native city) March 7, 1919.'' There are also two postcards sent by Carl to Mathilda Keller, both from "somewhere in France."
Frank Christian Weis
Frank Christian Weis, b. Dec. 24, 1899, married Elsie Greves (dates). They had children Frances (married?, children??), Paul (born 1926; children?) (CK materials list information taken from Gould's St. Louis (Missouri) Directory and give addresses for Weis, Frank C and Elsie (V) for the years 1920 and thereafter every five years to 1940, then 1952 and 1955; from 1930 onward the address is 3420a California Ave. Later they moved to Kirkwood.
Luise Roser Kümmerle
Katherine had a sister, Luise, who was born March 27, 1874 (also in Tutschfelden, Amt Baden) and who emigrated to St. Louis, arriving in the U.S. on March 3, 1895 (CK materials). She married Gottlieb Kümmerle in 1897 (see below). He was also a Tutschfelder, and some of the Roser in-laws I met were related to Kuemmerle's still living in Tutschfelden.
The CK materials contain xeroxes of a page from what must be a Kuemmerle family bible; it lists the birth of Edwin Kuemmerle, born the 14th of March, 1898, Adolph Kümmerle, born March 3, 1900, and also states that Luise Kuemmerle, geb. Roser, was born the 27th of March, 1874. On the opposite page, under Patenkinder (Godchildren), is written in old- fashioned German script ``1 Hermann Roser, born February 12, 1895''. This is the oldest son of Katherine's brother Christian Roser, who had five children: besides Hermann, there was Friedrich, Karl, Eduard, Luisa and Adolph. The last two were still alive in Tutschfelden when I visited in 1987, but Luisa has since died; I met them and their families when I visited. Karl's son, also Karl, lives in the Roser family homestead, Weinstrasse 3, Oma Weis's Geburtshaus. Adolph lives at Ruländerstrasse 20, 7834 Herbolzheim/Tutschfelden. Edwin married Maida Schlueter, on June 30, 1921 and they had a daughter, Marian. (Both Edwin and his daugher Marian were in attendance at Tante Emma's funeral in June, 1985.) The younger Kuemmerle son, Adolph, married Hazel (?). The CK materials contain a xerox of Gottlieb Kummerle and Louise Roser's application for a marriage license dated 1 June, 1897. Edwin died in March of 1987 in St. Louis.
---
Postscript: A while ago I was given by my mother (Mathilda Keller Schiffman) a letter sent to our family at Christmas, 1940. It was written in German, and I have translated it into English, and also give a 'transliteration' of the German, as well as a photocopy of the original. She was 76 when she wrote this.
---
More new copies of old and new photos are at this site.



---
Denzer, Heinrich. Unpublished documents related to history of Josef Weis family of Trier. Genealogy, Lehrlingskontrakt, etc.

Gemeinde Böhl--Iggelheim 1200 Jahre Böhl, 780--1980: Ein Dorf in der Mitte der Vorderpfalz. [`1200 Years of Böhl, 780-1980: A Village in the Center of the Nearer Palatinate.'] Theo Brendel and Kurt Scheurer, editors, 1980.

Village of Tutschfelden 1000 Jahre Tutschfelden. Gemeinde Tutschfelden, editors. 1977.

Keller, Catherine. Unpublished materials related to history of Keller and Weis families of Germany and St. Louis.

Roser, Adolph. Unsere Roser-Ahnen. Genealogy of Rosers of Tutschfelden.

Thiel, Erwin, Erna Neubauer, and Werner Neubauer Haßlocher Chronik: Eine Gemeinde zwischen Rhein und Haardt. [The Chronicle of Hassloch, a community between the Rhine and the Haardt Rivers.] Druckerei u. Verlag Hans H. Englram Gmbh., Haßloch/Pfalz, 1977.
---
Harold Schiffman
haroldfs@gmail.com, last modified 7/9/10